About Us
Taste Of Bengal is a Indian takeaway in Dumfries. Why don't you try our Mash Tikka or Dansak?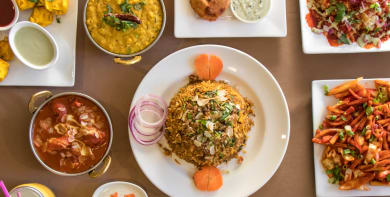 Reviews
312 reviews
Clare
"Ready on time. Really good and hot food. Defanitely order again."
16/05/2020
malcolm
"Great food as usual"
15/05/2020
rebecca
"Dinner was lovely would definitely order again."
12/05/2020
Davie
"Excellent"
10/05/2020
Menu
Bangla Pakora Platter
A selection of chicken, vegetable, king prawns dipped in a gram flower & crispy fried
£3.85
Bhuna Prawn on Puri
Medium spiced prawns cooked with onions, green peppers & tomatoes, then served on a puri
£2.95
Chicken Chaat in Puri
Medium spiced chicken cooked with onions, tomatoes & lemon juice
£3.25
Chicken Pakora
Made with sliced chicken, marinated in exotic mixed spices & chickpea flour prior to being deep fried in vegetable oil, served with mint sauce & mixed salad
£3.45
Chole Aur Kaju Chaat
Chickpeas, cashew nuts & sultanas tossed with onions, coriander & diced potatoes & chat masala
Vegetarian
£2.25
Fish Pakora
Made from fresh combined with spices prior to being crispy fried & served with mint sauce & salad
£3.85
King Prawn Bhaji
King prawns cooked with fresh spices & served on a puri
£3.95
Garlic Mushroom on Puri
Mushrooms cooked in garlic butter & served on a puri
Vegetarian
£3.25
Masaledar Badak (Duck)
Finely shredded duck breast lightly spiced & served wrapped in a puri on a bed of mint & yoghurt sauce
£3.85
Mash Tikka
Pieces of filleted monkfish marinated in spices & roasted in the tandoor
£4.85
Mixed Kebab
A cracking skewer consisting of a mixed selection of shami kebab, onion bhaji & chicken pakora, served with mint sauce & salad
£4.85
Onion Bhaji
Made with sliced onions & eggs combined with spice & chickpea flour prior to being crispy fried & served with mint sauce
Vegetarian
£2.75
Pakora
Made with fresh vegetable & eggs combined with spices & chickpea flour prior to being crispy fried & served with mint sauce & salad
Vegetarian
£2.75
Seekh Kebab Starter
Mildly spiced minced lamb with mixed spices & barbecued in the tandoor
£3.25
Simla Mirch Chicken
Grilled pepper stuffed & lightly spiced
£3.85
Simla Mirch Lamb
Grilled pepper stuffed & lightly spiced
£3.85
Simla Mirch Prawn
Grilled pepper stuffed & lightly spiced
£3.85
Simla Mirch Vegetable
Grilled pepper stuffed & lightly spiced
£3.85
Spicy Lemon & Garlic king Prawn
Lightly spiced king prawns cooked in garlic butter with mint & lemon juice
£4.85
Spring Pakora
Made with pieces of diced chicken, marinated with exotic mixed spices & deep fried in vegetable oil, served with cucumber, tomato & other vegetables & served with a mint sauce
£3.45
Tikka Starter Chicken
Marinated diced pieces of chicken OR lamb in herbs & spices then cooked in the tandoor
£3.45
Tikka Starter Lamb
Marinated diced pieces of chicken OR lamb in herbs & spices then cooked in the tandoor
£3.45
Tandoori Lamb Chop
Lamb chops marinated with fresh mint, yoghurt & spices before being barbecued in the tandoor
£4.50
Tandoori Platter For 2
A selection of kebabs & tikkas, served sizzling with salad, yoghurt, mint & tamarind chutney
£6.85
Tandoori Special Kebab
A sizzling skewer consisting of a selection of barbecued chicken tikka, lamb tikka & pieces of seekh kebab, cooked in a tandoori clay oven & served with mint sauce & salad
£4.85
Tandoori Lamb Chops
Lamb chops marinated with fresh mint, yoghurt & spices before being barbecued in the tandoor
£8.95
Tandoori Mixed Grill
Assortment of tandoori lamb chops, chicken tikka, lamb tikka, seekh kebab & tandoori chicken
£11.85
Tandoori King Prawn
King prawns marinated in herbs & with spices then cooked in the tandoor
£13.95
Whole Tandoori Chicken
Spring chicken on the bone marinated then cooked in the tandoor
£13.95
Chicken Hasina
Chicken tikka skewed & cooked with tomatoes, onions & green peppers
£8.45
Mash Tikka Main
Pieces of filleted monkfish marinated in spices & roasted in the tandoor
£11.85
Lamb Tikka Main
Marinated diced pieces of lamb in herbs & spices then cooked in the tandoor
£8.45
Chicken Tikka Main
Marinated diced pieces of chicken in herbs & spices then cooked in the tandoor
£8.45
Bangla Narikel King prawn
Fantastic mild dish consisting of onions, coconut milk & carnation milk
Mild
£8.95
Bangla Mash Dupiaza
Monkfish marinated with ginger, garlic, spices & then deep fried, cooked with onions, tomatoes & coriander in a bhuna style sauce
£8.95
Bangla Special Fish curry
Salmon braised with onions in a creamed coconut masala with red hot chillies & tamarind
£8.95
Bangle Narikel Mash
Mild salmon curry braised with a touch of onions along with coconut milk & carnation milk
Mild
£8.95
King Prawn Garlic & Chilli Sauce
King prawn cooked dish consisting of onions, coconut milk & carnation milk
£8.95
Sea Bass Moiley
A south Indian favourite, sea bass cooked in coconut milk, tempered with mustard seeds & whole red chillies
£8.95
Vegetable Pilau Rice
Vegetarian
£2.25
Stuffed Paratha
Keema, vegetable
£2.25
Onion Pilau Rice
Vegetarian
£2.25
Mushroom Pilau Rice
Vegetarian
£2.25
Peshwari Naan
Stuffed with coconut almonds
£1.85
Raita
Plain, cucumber, onion, banana
£1.25
Garlic Pilau Rice
Vegetarian
£2.25
Keema Naan (Stuffed with Minced Lamb)
£1.85
Chicken Tikka Balti
Marinated diced pieces of chicken in herbs & spices
£7.95
Chicken Tikka Chasni
A very mild & creamy dish cooked with ground almond, crushed mango & butter
Mild
£7.95
Chicken Tikka Garlic with Chilli Sauce
Diced pieces of chicken, fresh garlic, sauce, salt, chilli sauce, onions & peppers
Spicy
£7.95
Chicken Tikka Jalfrezi
Chicken tikka cooked with fresh garlic, ginger, tomatoes & spices
Hot
£7.95
Chicken Tikka Jarjala
Medium OR hot, cooked with garlic, garlic chilli, mustard paste & cream, garnished with spring onion & red pepper
Hot
£7.95
Batak Khazana
Duck breast cooked with tomatoes, onions, peppers & flavoursome masala sauce
Spicy
£7.85
Bangla Murgh Masala
Succulent pieces of chicken tikka cooked in a cream base & almond sauce for a delicate & mild flavour
Mild
£7.95
Keema Shazada
Freshly minced meat slow cooked with butter beans
Hot
£7.95
Kidd Gosht
Tender lamb cooked with yoghurt, cashew nuts & potatoes in a Tamil Style
£7.95
Garlic & Chilli Chicken Tikka
Diced pieces of chicken, fresh garlic, sauce, salt, chilli sauce, onions & peppers
Spicy
£7.95
Murg Malwani
A south Indian speciality of chicken curry made with coconut & fresh spices
Spicy
£7.95
Murg Samba
A wonderful combination of flavours, cooked in a special sweet & sour coconut sauce carefully prepares by our chef
£7.95
Luari Chicken
Medium spiced dish with tomatoes, peppers & fresh coriander
Spicy
£7.95
Luari Lamb
Medium spiced dish with tomatoes, peppers & fresh coriander
Spicy
£7.95
Butter Murg Tikka
Cubed pieces of chicken tikka marinated in light spices served in a very mild creamy sauce
Mild
£7.95
Chicken Tikka Masala
Tasty pieces of tikka marinated chicken breast cooked in the tandoori & finished off in a tikka based creamy sauce. Perfect for mild lovers
Mild
£7.95
Hash Jarjala
One of the most familiar medium to hot curries in the restaurant consisting of fresh garlic, green chillies, mustard paste with a little touch of cream, garnished with spring onions as well as red peppers
£8.85
Hash Korma
Cracking mild dish consisting of diced duck cooked with coconut powder, double cream & sugar as well as other exotic mixed spices
Mild
£8.85
Hash Masala
Fabulous mild dish consisting of diced duck cooked with fresh cream & ground almond
Mild
£8.85
Honey Duck
Chunky duck breast marinated in spices, honey & served in a creamy sauce
Mild
£7.85
Saag Aloo
Spinach & potatoes cooked with herbs & spices
Vegetarian
£2.85
Saag Paneer
Spinach & cottage cheese cooked with herbs & spices
Vegetarian
£2.85
Spinach Bhaji
Spinach sauteed with onions & spices
Vegetarian
£2.85
Tarka Daal
Mixed lentils cooked with fried garlic
Vegetarian
£2.85
Bombay Aloo
Potatoes slightly spiced with herbs & spices
Vegetarian
£2.85
Brinjal Bhaji
Aubergine cooked with onions, herbs & spices
Vegetarian
£2.85
Aloo Gobi
Potatoes & cauliflower cooked with herbs & spices
Vegetarian
£2.85
Bindi Bhaji
Fresh okra cut into small pieces & cooked with herbs & spices
Vegetarian
£2.85
Mushroom Bhaji
Fresh mushrooms cooked with herbs & spices
Vegetarian
£2.85
Mixed Vegetable Bhaji
Mixed vegetables cooked with herbs & spices
Vegetarian
£2.85
Special Offer For 1 Person
Any 1 starter
Any 1 main dish
Any 1 rice
Any 1 naan
Dinner time (For limited period only. Please check availibility)
£9.95
Special Offer For 2 Persons
Any 2 starters
Any 2 main dishes
Any 1 side dish
Any 2 rice dishes
Any 1 naan
Dinner time (For limited period only. Please check availibility)
£19.95
Set Meal A Regular
Any starter
Any curry
Pilau rice
Monday to Thursday only
£5.95
Set Meal A With Any Naan OR Chips
Any starter
Any curry
Pilau rice
Monday to Thursday only
£6.95
Set Meal B Regular
Any starter
Any curry
Pilau rice
Monday to Thursday only
£6.95
Set Meal B With Any Naan OR Chips
Any starter
Any curry
Pilau rice
Monday to Thursday only
£7.95
Madras Chicken
A fairly hot dish made with hot spices & chilli
Hot
£6.25
Madras Chicken Tikka
A fairly hot dish made with hot spices & chilli
Hot
£6.95
Madras King Prawn
A fairly hot dish made with hot spices & chilli
Hot
£8.95
Madras Lamb
A fairly hot dish made with hot spices & chilli
Hot
£6.25
Madras Lamb Tikka
A fairly hot dish made with hot spices & chilli
Hot
£6.95
Madras Prawn
A fairly hot dish made with hot spices & chilli
Hot
£6.25
Madras Vegetable
A fairly hot dish made with hot spices & chilli
Hot
£5.25
Malayan Chicken
A mild & creamy dish. Cooked with ground almonds, ground coconut & bananas
Mild
£6.25
Malayan Chicken Tikka
A mild & creamy dish. Cooked with ground almonds, ground coconut & bananas
Mild
£6.95
Malayan King Prawn
A mild & creamy dish. Cooked with ground almonds, ground coconut & bananas
Mild
£8.95
Malayan Lamb
A mild & creamy dish. Cooked with ground almonds, ground coconut & bananas
Mild
£6.25
Malayan Lamb Tikka
A mild & creamy dish. Cooked with ground almonds, ground coconut & bananas
Mild
£6.95
Malayan Prawn
A mild & creamy dish. Cooked with ground almonds, ground coconut & bananas
Mild
£6.25
Malayan Vegetable
A mild & creamy dish. Cooked with ground almonds, ground coconut & bananas
Mild
£6.25
Kashmiri Chicken
A mild dish cooked with fresh cream & fruits
Mild
£6.25
Kashmiri Chicken Tikka
A mild dish cooked with fresh cream & fruits
Mild
£6.95
Kashmiri King Prawn
A mild dish cooked with fresh cream & fruits
Mild
£8.95
Kashmiri Lamb
A mild dish cooked with fresh cream & fruits
Mild
£6.25
Kashmiri Lamb Tikka
A mild dish cooked with fresh cream & fruits
Mild
£6.95
Kashmiri Prawn
A mild dish cooked with fresh cream & fruits
Mild
£6.25
Kashmiri Vegetable
A mild dish cooked with fresh cream & fruits
Mild
£6.25
Korma Chicken
A very mild dish prepared with ground coconut, sultana & fresh cream
Mild
£6.25
Korma Chicken Tikka
A very mild dish prepared with ground coconut, sultana & fresh cream
Mild
£6.95
Korma King Prawn
A very mild dish prepared with ground coconut, sultana & fresh cream
Mild
£8.95
Korma Lamb
A very mild dish prepared with ground coconut, sultana & fresh cream
Mild
£6.25
Korma Lamb Tikka
A very mild dish prepared with ground coconut, sultana & fresh cream
Mild
£6.95
Korma Prawn
A very mild dish prepared with ground coconut, sultana & fresh cream
Mild
£6.25
Korma Vegetable
A very mild dish prepared with ground coconut, sultana & fresh cream
Mild
£5.25
Bhuna Chicken
A thick dry curry cooked with tomatoes, onions & peppers
£6.25
Bhuna Chicken Tikka
A thick dry curry cooked with tomatoes, onions & peppers
£6.95
Bhuna King Prawn
A thick dry curry cooked with tomatoes, onions & peppers
£8.95
Bhuna Lamb
A thick dry curry cooked with tomatoes, onions & peppers
£6.25
Bhuna Lamb Tikka
A thick dry curry cooked with tomatoes, onions & peppers
£6.95
Bhuna Prawn
A thick dry curry cooked with tomatoes, onions & peppers
£6.25
Bhuna Vegetable
A thick dry curry cooked with tomatoes, onions & peppers
£5.25
Chasni Chicken
A very mild & creamy dish cooked with ground almond, crush mango & butter
Mild
£6.25
Chasni Chicken Tikka
A very mild & creamy dish cooked with ground almond, crush mango & butter
Mild
£6.95
Chasni King Prawn
A very mild & creamy dish cooked with ground almond, crush mango & butter
Mild
£8.95
Chasni Lamb
A very mild & creamy dish cooked with ground almond, crush mango & butter
Mild
£6.25
Chasni Lamb Tikka
A very mild & creamy dish cooked with ground almond, crush mango & butter
Mild
£6.95
Chasni Prawn
A very mild & creamy dish cooked with ground almond, crush mango & butter
Mild
£6.25
Chasni Vegetable
A very mild & creamy dish cooked with ground almond, crush mango & butter
Mild
£5.25
Dupiaza Chicken
Chunky pieces of fried onions, spiced & cooked in a thick sauce
£6.25
Dupiaza Chicken Tikka
Chunky pieces of fried onions, spiced & cooked in a thick sauce
£6.95
Dupiaza King Prawn
Chunky pieces of fried onions, spiced & cooked in a thick sauce
£8.95
Dupiaza Lamb
Chunky pieces of fried onions, spiced & cooked in a thick sauce
£6.25
Dupiaza Lamb Tikka
Chunky pieces of fried onions, spiced & cooked in a thick sauce
£6.95
Dupiaza Prawn
Chunky pieces of fried onions, spiced & cooked in a thick sauce
£6.25
Dupiaza Vegetable
Chunky pieces of fried onions, spiced & cooked in a thick sauce
£5.25
Dansak Chicken
Hot, sweet & sour dish, cooked with lentils & pineapple
Spicy
£6.25
Dansak Chicken Tikka
Hot, sweet & sour dish, cooked with lentils & pineapple
Spicy
£6.95
Dansak King Prawn
Hot, sweet & sour dish, cooked with lentils & pineapple
Spicy
£8.95
Dansak Lamb
Hot, sweet & sour dish, cooked with lentils & pineapple
Spicy
£6.25
Dansak Lamb Tikka
Hot, sweet & sour dish, cooked with lentils & pineapple
Spicy
£6.95
Dansak Prawn
Hot, sweet & sour dish, cooked with lentils & pineapple
Spicy
£6.25
Dansak Vegetable
Hot, sweet & sour dish, cooked with lentils & pineapple
Spicy
£5.25
Vindaloo Chicken
A very hot dish made similar to madras but with a lot more chillies
Very hot
£6.25
Vindaloo Chicken Tikka
A very hot dish made similar to madras but with a lot more chillies
Very hot
£6.95
Vindaloo King Prawn
A very hot dish made similar to madras but with a lot more chillies
Very hot
£8.95
Vindaloo Lamb
A very hot dish made similar to madras but with a lot more chillies
Very hot
£6.25
Vindaloo Lamb Tikka
A very hot dish made similar to madras but with a lot more chillies
Very hot
£6.95
Vindaloo Prawn
A very hot dish made similar to madras but with a lot more chillies
Very hot
£6.25
Vindaloo Vegetable
A very hot dish made similar to madras but with a lot more chillies
Very hot
£5.25
Rogan Josh Chicken
Cooked with sliced onions, green peppers, fresh garlic, herbs & spices, garnished with sauteed tomatoes
£6.25
Rogan Josh Chicken Tikka
Cooked with sliced onions, green peppers, fresh garlic, herbs & spices, garnished with sauteed tomatoes
£6.95
Rogan Josh King Prawn
Cooked with sliced onions, green peppers, fresh garlic, herbs & spices, garnished with sauteed tomatoes
£8.95
Rogan Josh Lamb
Cooked with sliced onions, green peppers, fresh garlic, herbs & spices, garnished with sauteed tomatoes
£6.25
Rogan Josh Lamb Tikka
Cooked with sliced onions, green peppers, fresh garlic, herbs & spices, garnished with sauteed tomatoes
£6.95
Rogan Josh Prawn
Cooked with sliced onions, green peppers, fresh garlic, herbs & spices, garnished with sauteed tomatoes
£6.25
Rogan Josh Vegetable
Cooked with sliced onions, green peppers, fresh garlic, herbs & spices, garnished with sauteed tomatoes
£5.25
Pathia Chicken
A fairly hot, sweet & sour dish, cooked with onions, herbs & spices
Spicy
£6.25
Pathia Chicken Tikka
A fairly hot, sweet & sour dish, cooked with onions, herbs & spices
Spicy
£6.95
Pathia King Prawn
A fairly hot, sweet & sour dish, cooked with onions, herbs & spices
Spicy
£8.95
Pathia Lamb
A fairly hot, sweet & sour dish, cooked with onions, herbs & spices
Spicy
£6.25
Pathia Lamb Tikka
A fairly hot, sweet & sour dish, cooked with onions, herbs & spices
Spicy
£6.95
Pathia Prawn
A fairly hot, sweet & sour dish, cooked with onions, herbs & spices
Spicy
£6.25
Pathia Vegetable
A fairly hot, sweet & sour dish, cooked with onions, herbs & spices
Spicy
£5.25
Contact Us
Find Us
173 Saint Michael Street, Dumfries, DG12PP